Welcome one another, therefore, just as Christ has welcomed you, for the glory of God." - Romans 15:7
Who we are: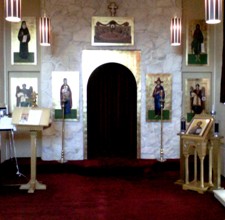 We are a parish of the Metropolis of San Francisco of the Greek Orthodox Archdiocese of America, which is under the Ecumenical Patriarch of Constantinople.
The people of our parish come from America, and around the world. Church services are sung in English. In each Divine Liturgy, the Lord 's Prayer is spoken in as many languages as is requested. The aim and purpose of our Parish is to keep, practice and proclaim the Orthodox Christian Faith pure and undefiled.
The work and ministry of our Parish includes:
proclaiming the Gospel in accordance with the Orthodox faith
sanctifying the faithful through God's grace in worship,
enhancing people's spiritual life,
instructing others and receiving them into the Church
teaching the Orthodox faith and the ethos of the Church, which is the Body of Christ (Ephesians 1:23) and "the pillar and ground of the truth" (I Timothy 3:15).
Saint Nectarios Greek Orthodox Mission Church
627 West Bonneville St., Pasco WA 99301
"In person" services and activities are not currently being held at St. Nectarios.
Please see the Weekly Bulletin for the latest Church News and Announcements.
Please see 'Announcements' (under the 'About Us' Tab) for additional information about St. Nectarios activities.
The Orthodox Marketplace

- The offical online store of the Greet Orthodox Archdiocese of America
Iconogram

: Share the Orthodox Christian Faith with an Icongram
Monastery: St. John the Forerunner Greek Orthodox Monastery