Welcome one another, therefore, just as Christ has welcomed you, for the glory of God." - Romans 15:7
Who we are: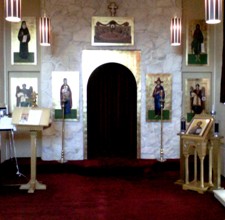 We are a parish of the Metropolis of San Francisco of the Greek Orthodox Archdiocese of America, which is under the Ecumenical Patriarch of Constantinople.
The people of our parish come from America, and around the world. Church services are sung in English. The aim and purpose of our Parish is to keep, practice and proclaim the Orthodox Christian Faith pure and undefiled.
The work and ministry of our Parish includes:
proclaiming the Gospel in accordance with the Orthodox faith
sanctifying the faithful through God's grace in worship,
enhancing people's spiritual life,
instructing others and receiving them into the Church
teaching the Orthodox faith and the ethos of the Church, which is the Body of Christ (Ephesians 1:23) and "the pillar and gound of the truth" (I Timothy 3:15).
Special Announcements:
Christmas Pageant: Saturday December 24.
We are happy to announce that our parish children will be putting on an annual Christmas pageant performance, which will be taking place at 5PM on December 24 (Nativity Eve). To prepare for this event, we anticipate to having several short rehearsals either on Sundays after the Liturgy and/or Saturday afternoons. Updated information will be posted on the Church's website.
Clergy at St. Nectarios: Information about a possible candidate for our new Priest, Father Moses, is given under the "Visiting Clergy" tab. Father Moses visited St. Nectarios on December 3rd and 4th.
Please see

'Schedule of Services'

(under the

'About Us'

Tab) for St. Nectarios Services and activities.
The Orthodox Marketplace

- The offical online store of the Greet Orthodox Archdiocese of America
Iconogram

: Share the Orthodox Christian Faith with an Icongram
Monastery: St. John the Forerunner Greek Orthodox Monastery