Welcome to Our Parish Website
Welcome one another, therefore, just as Christ has welcomed you, for the glory of God." - Romans 15:7
Who we are: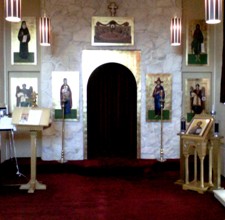 We are a parish of the Metropolis of San Francisco of the Greek Orthodox Archdiocese of America, which is under the Ecumenical Patriarch of Constantinople.
The people of our parish come from America, and around the world. Church services are sung in English. In each Divine Liturgy, the Lord 's Prayer is spoken in as many languages as is requested. The aim and purpose of our Parish is to keep, practice and proclaim the Orthodox Christian Faith pure and undefiled.
The work and ministry of our Parish includes:
proclaiming the Gospel in accordance with the Orthodox faith
sanctifying the faithful through God's grace in worship,
enhancing people's spiritual life,
instructing others and receiving them into the Church
teaching the Orthodox faith and the ethos of the Church, which is the Body of Christ (Ephesians 1:23) and "the pillar and ground of the truth" (I Timothy 3:15).

Canceled - All Church Activities and Services: Weekend of Feb. 15-17


All services and activities at St Nectarios for this weekend are canceled. The cancelation is the result of weather, travel/road uncertainties, and the potentially dangerous condition of the Church parking lot.


Weather permitting there will be Typica Service next weekend (

February 24).
Schedule of Upcoming Services
Saint Nectarios Greek Orthodox Mission Church
627 West Bonneville St, Pasco WA 99301
Sunday February 3rd: This is Godparent Sunday! The Godparents serve an important role in the Orthodox Church. Along with the parents, the Godparents assume the responsibility to assist in the spiritual development of their Godchild. The Godparents, together with the parents and the Church, become the "spiritual family" of their Godchild. If the Godparents and the Godchildren do not live in the same town, they need to communicate with each other. The Godparents need to help the parents through books and other means to grow in the Faith. On Sunday, February 3, 2019, we will celebrate Godparents' Sunday to recognize the importance of the Godparent/Godchild bond in Christ. On this special day, you are invited to prepare to receive Holy Communion together with your Godparent/Godchild, if you are in town.
February 2019
Sunday, February 24
10:00AM Typica Service, Sunday School
11:00AM Fellowship Time
Please see the 'News' Tab on this website for the latest St Nectarios monthly newsletter. Additonal current information may also be found under 'Announcements' (under the 'About Us' Tab).
Please see 'Announcements' (under the 'About Us' Tab) for additional information about St. Nectarios activities.
The Orthodox Marketplace

- The offical online store of the Greet Orthodox Archdiocese of America
Iconogram

: Share the Orthodox Christian Faith with an Icongram
Monastery: St. John the Forerunner Greek Orthodox Monastery