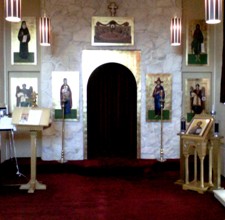 Welcome one another, therefore, just as Christ has welcomed you, for the glory of God." - Romans 15:7
Who we are:
We are a parish of the Metropolis of San Francisco of the Greek Orthodox Archdiocese of America, which is under the Ecumenical Patriarch of Constantinople.
The people of our parish come from America, and around the world. Church services are sung in English. In each Divine Liturgy, the Lord 's Prayer is spoken in as many languages as is requested. The aim and purpose of our Parish is to keep, practice and proclaim the Orthodox Christian Faith pure and undefiled.
proclaiming the Gospel in accordance with the Orthodox faith
sanctifying the faithful through God's grace in worship,
enhancing people's spiritual life,
instructing others and receiving them into the Church
teaching the Orthodox faith and the ethos of the Church, which is the Body of Christ (Ephesians 1:23) and "the pillar and ground of the truth" (I Timothy 3:15).
---
Online Chapel
5th Saturday of Lent: The Akathist Hymn
Current Saint Nectarios Christian Orthodox Activities

Easter Services - Please see the Newsletter for the latest information.
Facebook Divine Liturgy Streaming – Most online Liturgy services are being streamed live to Facebook Group, Saint Nectarios – Pasco. Normally they will also be available for viewing after the service is completed.
Bookmarks (Links) for Regular Online Meetings:
Please see the current St Nectarios Newsletter for links to special Services.
First Friday Monthly Activity - Online and At-home
Akathist to St. Nectarios Service - First Friday of Month at 6:0pm
https://goarch.zoom.us/j/8714814431?pwd=bHpUM2VGMW0zdnhna0tUQXZiV2NkUT09
Akathist to St. Nectarios, Wonderworker of Aegina and Pentapolis is held on the first Friday of each month:
Online: The on-line services can be joined using the above Zoom software link.
At Home: For those who cannot (or do not want to) use online access, you are invited to join the prayers by holding the Akathist Service in your home starting at 6:00 pm.
Please call/contact the church if you would like an Akathist to St. Nectarios service text either emailed or mailed to you. The text for this service text is also available on this website.
---
Weekly - Saturday Online Activities
https://goarch.zoom.us/j/98171368290?pwd=UHMxZlhhRW5pUTREY2JWaVo3WWJKUT09
Saturday 4:00 pm: Weekly Orthodox Study Group with Father John - A great activity for inquirers that want to learn about Orthodoxy.
Saturday 5:00 pm: Saturday Vespers Service - Interactive Service with Father John.
---
Weekly - Sunday Online Activities
https://goarch.zoom.us/j/98536633590?pwd=MHhaUE1nbFJUb1ptU01zdU5BT0Rmdz09
Sunday 10:00 am: Divine Liturgy. Father John has invited us to join him in his home to help him celebrate the Divine Liturgy Service (Zoom meeting). Please join us and give us feedback.
Sunday 1:00 pm: Fellowship Time – Every Sunday, an informal time to share. Just talk, no agenda other than Christian Fellowship! In several fellowship times the sharing has even included singing by participants.
---
How to Join a Meeting
All are welcome to join us! Most people connect to meeting from a computer or cell phone by clicking on the provided link. If asked, install Zoom on your device. Once it is installed, just close Zoom (you do not need to, or want to, login). Then go back to and click on the link provided for the meeting again. The host for the St Nectarios Zoom meetings is normally Jim Droppo (Cell Number: 5O9 366 8745). Meetings start about 15 minutes early to provide a time to welcome new participants. Jim Droppo will be available to answer any questions.
Please plan to listen to, or participate in some, or all, of the above activities. The format is quite informal - typical of a small congregation. A list of activities for November is given at the bottom of this Newsletter.