Welcome one another, therefore, just as Christ has welcomed you, for the glory of God." - Romans 15:7
Who we are: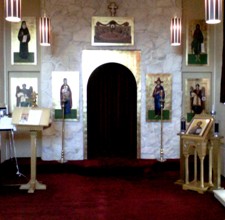 We are a parish of the Metropolis of San Francisco of the Greek Orthodox Archdiocese of America, which is under the Ecumenical Patriarch of Constantinople.
The people of our parish come from America, and around the world. Church services are sung in English. In each Divine Liturgy, the Lord 's Prayer is spoken in as many languages as is requested. The aim and purpose of our Parish is to keep, practice and proclaim the Orthodox Christian Faith pure and undefiled.
The work and ministry of our Parish includes:
proclaiming the Gospel in accordance with the Orthodox faith
sanctifying the faithful through God's grace in worship,
enhancing people's spiritual life,
instructing others and receiving them into the Church
teaching the Orthodox faith and the ethos of the Church, which is the Body of Christ (Ephesians 1:23) and "the pillar and ground of the truth" (I Timothy 3:15).
St Nectarios - Pasco Online and At-home Activities
Listen to St Nectarios Services at Home - Divine Liturgy
Links to YouTube videos with the audio for recent Sunday Divine Liturgy Services are posted to the Facebook Group "Saint Nectarios – Pasco"
Several links to paast services are:
Links for Online Meetings
*** Weekly Saturday Online Activities
Saturday 4:00 pm: Weekly Orthodox Study Group - All are welcome in join in a discussion of Orthodoxy
Saturday 5:00 pm: Saturday Vespers Service - Interactive Service with Father John.
*** Weekly - Sunday Online Activities
Sunday 10:00 am: Divine Liturgy. Father John has invited to his home to help him celebrate the Divine Liturgy Service as a Zoom meeting. Please join us and give us feedback.
Sunday 1:00 pm: Fellowship Time – Every Sunday, a time to share. Just talk, no agenda other than Christian Fellowship! In one recent fellowship time there even was some singing.
*** Monthly Activity -
Live Online and At-home
Akathist to St. Nectarios Service
Service on October 2 starting at 6:00pm.
Akathist to St. Nectarios, Wonderworker of Aegina and Pentapolis. (Held on the first Friday of each Month).
Online: Those with online access may join an on-line service using the above Zoom software link.
At Home: For those that cannot (or do not want to) use online access, you are invited to join the prayers by holding the Akathist service in your home starting at 6:00 pm. Please call/contact the church if you would like an Akathist to St. Nectarios service book sent to you - the service is also available on the St Nectarios - Pasco website.
Please plan to listen to, or participate in some of the above activities. The format is quite informal - typical of a small congregation.
Please see 'Announcements' (under the 'About Us' Tab) for additional information about St. Nectarios activities.
The Orthodox Marketplace

- The offical online store of the Greet Orthodox Archdiocese of America
Iconogram

: Share the Orthodox Christian Faith with an Icongram
Monastery: St. John the Forerunner Greek Orthodox Monastery