Welcome one another, therefore, just as Christ has welcomed you, for the glory of God." - Romans 15:7
Who we are: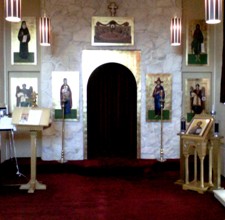 We are a parish of the Metropolis of San Francisco of the Greek Orthodox Archdiocese of America, which is under the Ecumenical Patriarch of Constantinople.
The people of our parish come from America, and around the world. Church services are sung in English. In each Divine Liturgy, the Lord 's Prayer is spoken in as many languages as is requested. The aim and purpose of our Parish is to keep, practice and proclaim the Orthodox Christian Faith pure and undefiled.
The work and ministry of our Parish includes:
proclaiming the Gospel in accordance with the Orthodox faith
sanctifying the faithful through God's grace in worship,
enhancing people's spiritual life,
instructing others and receiving them into the Church
teaching the Orthodox faith and the ethos of the Church, which is the Body of Christ (Ephesians 1:23) and "the pillar and ground of the truth" (I Timothy 3:15).
Saint Nectarios Greek Orthodox Mission Church
627 West Bonneville St., Pasco WA 99301
"In Church" services and activities are not currently being held at St. Nectarios.
Please see the Weekly Bulletin for the latest Church News and Announcements.
Akathist to St. Nectarios, Wonderworker of Aegina and Pentapolis
St Nectarios in the Tricities normally has a special "Akathist to St. Nectarios" prayer service on the first Friday of each month at 6 pm to pray for healing of the sick. The St. Nectarios prayer is read by attendees. It celebrates the life of the modern day Saint, St Nectarios, that was known as a great healer - and asks for healing for those that are ill. These are certainly times when much healing is needed.
Because of the virus, this much-needed service is being conducted as an at-home activity. The St. Nectarios prayer is to be read by members of our Parish - where ever they happen to be. So, at 6 pm on the first Friday of each month (April 3rd, etc.) you are encouraged to join this activity by reading the Akathist service in your home. If you don't have a copy of the service, just go to one of the the website links given below - the words for the service are given on those sites. If there is more than one person reading, our practice is to take turns.
Although we will not have any audio or visual connection - we will have a spiritual connection as we pray for healing of the sick.
Two links to the text for the "Akathist to St. Nectarios" prayer service are:
http://www.angelfire.com/planet/parastos/akathistnectarios.html
https://www.akathists.com/saint-nectarios-of-aegina/akathist/
Please see 'Announcements' (under the 'About Us' Tab) for additional information about St. Nectarios activities.
The Orthodox Marketplace

- The offical online store of the Greet Orthodox Archdiocese of America
Iconogram

: Share the Orthodox Christian Faith with an Icongram
Monastery: St. John the Forerunner Greek Orthodox Monastery